Thank you for your interest in applying to one of the graduate programs in the School of Information Technology. Each application is evaluated independently and holistically to identify potential students to join our programs. In general, we are looking for students who can enrich our discipline through their demonstrated commitment to learning, hard work, and alignment to our School's mission. We also evaluate how the program fits with applicants' personal and career goals. Each component of the application is reviewed carefully. The application is your way of making your case to our program and we recommend giving your best to each component of the application.
Have a question about the application process?
We recommend reviewing the Graduate School's Application Process FAQ. 
Application fee waivers are not available, with the following exception:
Three programs are granted application fee waivers by the Graduate School: 
To indicate your participation in one of these programs, check the appropriate button and add your advisor's name when completing the online application, then email documentation to Matt Guido at guidowm@ucmail.uc.edu.  
Applications for the post-baccalaureate certificate and MS Information Technology programs are typically processed within two weeks.
Applications for the PhD Information Technology program are processed in the Spring semester. Admission decisions are typically sent by March 1.  You may be contacted for an interview before receiving a decision.
The admissions committee conducts a holistic review of applications to determine an admissions decision. Please review this FAQ for guidance on how to prepare a strong application. 
For any questions about the application process or program requirements, professional development or courses please contact us by submitting a ticket with the "Contact Us" button below. 
Please note that we are not able to provide information about admissions decisions beyond this FAQ. 
The personal statement is your opportunity to share why the graduate program you are seeking is best positioned to help you achieve your personal and career goals. While we do not have specific requirements, we are looking for a concise reflection on your career journey so far and how the program will contribute to your journey. We are looking for demonstrated understanding of the discipline, reflection on commitment to learning, summary of past experiences, and a reflection on how you plan to pivot your career after obtaining the degree. Please note that past IT experience is not required but it is encouraged. 
Recommendation letters are our window into how people who have worked with you in the past assess your commitment to learning, your work ethic, your career journey, and how you view the program you are applying for. We are looking for recommendation letters from people who know you best and who are familiar with the discipline and profession. You should find individuals who can provide objective assessment of your strength and areas for improvement and who can comment on why the program will be an addition to you, such as faculty members, professionals, and others who interacted with you. Recommendation letters need to be formal and comprehensive. Recommendation letters from peers are generally considered weak. 
Funding Opportunities:
There are three opportunities available to graduate students in the SoIT:
Graduate Incentive Awards:
These merit-based scholarships cover part of student tuition. Several levels of merit-based scholarships are awarded every year. All students who apply for admission by the March 1 priority deadline and are admitted to the program will be automatically considered for these merit-based scholarships and notified by April 1. Applications are reviewed holistically for consideration for the merit-based scholarships. Some of the factors that could enhance the application's merit include the strength of the statement of purpose, evidence of academic strength, and evidence of skills and abilities in the discipline.
Teaching Assistantships:
Teaching assistantships (TAs) include a monthly stipend and tuition coverage for the academic year (Fall and Spring semesters). Students receiving teaching assistantships are expected to work for 20 hours per week assisting with teaching and learning. Several TAs are awarded each year to new and returning students. Returning students are only awarded TAs if they have a full year remaining. An email is sent out to all students in the Spring of each year inviting them to apply for the teaching assistantships. New students are encouraged to apply by the priority deadline to ensure that they receive the invitation to apply. Some of the factors that could enhance candidacy for teaching assistantship include evidence of academic strength in the subjects covered in the undergraduate programs, evidence of prior teaching assistant experience, industry certifications related to subjects covered in the undergraduate programs, and evidence of strong communication skills
Research Assistantships:
Research assistantships (RAs) include a monthly stipend and tuition coverage for the academic year (Fall and Spring semesters). RAs are funded by the various research centers and grants at the School and are offered directly by the faculty member or research centers. Students receiving RAs are expected to work for 20 hours per week fulfilling the duties of the RA that they are offered. When opportunities are available, an email is sent out to all students. New students are encouraged to apply by the priority deadline to ensure that they receive the invitation to apply. Each RA may have its own requirements, but could include evidence of academic strength, evidence of strong work ethics, evidence of high level of skills in IT related areas, evidence of successful contribution to projects, or evidence of commitment to learning and hard work.
MSIT On-Campus:
Full time on-campus students are considered for the Graduate Incentive Awards, Teaching Assistantships, and Research Assistantships.
MSIT Online:
Full time online students may be eligible to the TAs and RAs and will receive the email invitations to apply. The students must be able to work for the 20 hours per week and thus students who are employed full time will not be eligible. Limited number of Graduate Incentive Awards may be available to full time online students who are residents in the US.
SoIT has scholarships available for graduates from the Bachelor of Science in Information Technology program at the University of Cincinnati. Alumni will automatically be reviewed for these awards and receive notification of offers via email.
All financial aid is based on annual availability.
PhD
All students admitted to the full-time PhD program receive a Teaching Assistantship or Research Assistantship.
Students admitted to the part-time PhD program are required to show evidence of funding through their employer, or self-funding, that would enable them to complete the program. A limited number of Graduate Incentive Awards may be available to part-time PhD students. 
The School of Information Technology identifies three main pillars for success: Hands-on Skills, Problem Solving, and Communication. Information Technology started as a practitioner-based discipline. For the practice and research realms, the nature of these skills and its levels of complexities evolves from undergraduate to graduate studies as shown in figure 1. 

At the undergraduate level, the focus is to acquire the skills needed for the practice. This includes technical skills, problem solving and presentation and professional writing skills. As the student progresses through graduate programs, the nature of the skills shifts from the practice to the research introducing scientific method for research, academic writing, peer-review, and tools for research methods. The Master's program still introduces practice-related skills, especially in the project-based track while introducing the students to foundations of research and academics. 
Please review the program admission requirements. We will consider applicants with undergraduate GPAs below a 3.0 who demonstrate potential. Please see the tips on strengthening your application.
Yes, you can apply if you do not have a background in IT. You should be able to demonstrate an understanding of the field of Information Technology in your application, however. If admitted, you may be required to take additional prerequisite coursework to prepare you for the program. Admitted students should check their offer letter to determine which, if any, prerequisite bridge courses are required. Please review the tips on strengthening your application.
If you are concerned about a low undergraduate GPA or lack of a background in Information Technology, you may wish to consider the following suggestions to strengthen your application.
It is important to have an understanding of the field of Information Technology. Utilize online resources to learn about the field and gain a basic knowledge of skills, such as networking, computer programming, databases management systems, web applications, cybersecurity, applied machine learning, etc. Discuss what you've learned. Familiarize yourself with trends in the field.

While not required, you may consider taking the GRE to demonstrate strong quantitative & critical thinking skills.
Discuss why your undergraduate GPA was low and what would be different in your graduate program.
Discuss why you are interested in the MS Information Technology and what you have done to determine it is the right field for you (i.e. informational interviews, etc).
Complete the optional video essay.
If you are curious about knowledge and interested in exploring the boundaries of our current understanding and eager to discover new areas or answer questions that have not been answered yet, a PhD program is for you. Figure 2 is an outline of the discovery process exemplified in the PhD program.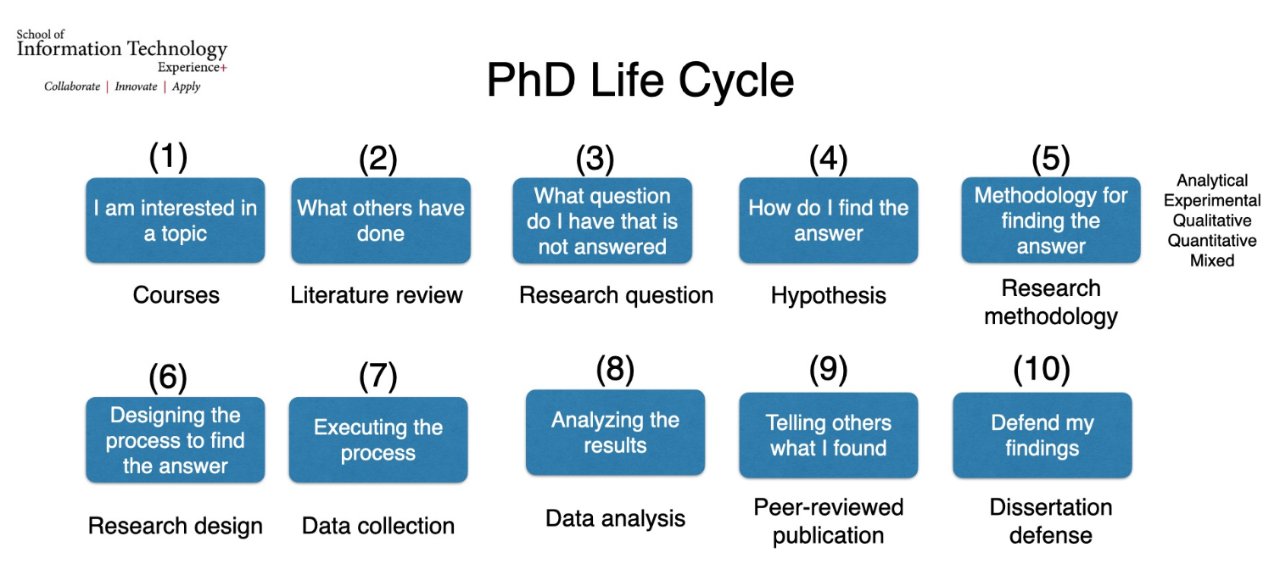 Information Technology is a critical discipline for our society and the society needs people like you to be equipped with the knowledge, skills, and abilities 
Yes, to enroll directly to the PhD program, you need to show evidence of some understanding and experience in research. Research in information technology and academic publications in peer-reviewed forums are considered a plus. Undergraduate students looking towards a PhD should consider undergraduate research experiences during their undergraduate programs. Students in a Master's program should complete a thesis track and consider publishing their work in peer-reviewed forums. 
We recommend applying for the Master's program and completing a thesis track first. This will help us assess the commitment to research required for the PhD program. 
We are looking for formal recommendation letters that reflects assessment of the applicant's disposition, commitment to learning, past practical or research experience, and clarity of their career goals. For example, the following areas helps us assess the applicants:
How long and in what capacity have you known the applicant.
Comment on the applicant's intellectual ability, knowledge of the field, work habits, ability to analyze problems and formulate solutions, motivation to pursue doctorate program, seriousness of purpose, potential for future contribution, emotional maturity, enthusiasm, leadership qualities, resourcefulness and initiatives.
Comment on the applicant's outstanding abilities and talents
Comment on the applicant's areas for improvement
Comment on the applicant's abilities in their area of specialization. For example, technical knowledge, analytical ability, attention to detail, creativity, imaginative problem-solving, etc.
What you think motivates the applicant to apply for a doctorate program.
The School of Information Technology is proud of its unique mix of faculty that includes educators, practitioners, and researchers. All faculty in the SoIT supports students and candidates through mentorship and support as needed. A doctoral advisor must be among the faculty researchers.
Hazem Said, PhD
Chengcheng Li, PhD
Shane Halse, PhD
Nelly Elsayed, PhD
Bilal Gonen, PhD
Kijung Lee, PhD
Jess Kropczynski, PhD
Murat Ozer, PhD
Annu Prabhakar, PhD 
Zag Elsayed, PhD
Familiarize yourself with the School of Information Technology graduate faculty. Review their areas of research and publications. Some resources you may choose to utilize include Google Scholar and ResearchGate.
Demonstrate a strong understanding of academic research. Share your research experience, publications, and potential directions for your research in your doctoral program. Please avoid using "buzzwords" to describe research ideas. Instead review relevant literature and discuss topics of interest.
While not required, you may consider taking the GRE to demonstrate strength in verbal reasoning, critical thinking, and analytical writing skills.
Select carefully for your recommendation letters.