Master of Education in School Counseling

The Master of Education (M.Ed.) in School Counseling is recognized for preparing future school counselors in real world-application of evidence-based practices in PreK-12 school settings. Experienced faculty guide students to put theory into practice following the American School Counseling Association (ASCA) National Model. Within the program, students gain hands-on training through established partnerships with professional school counselors in the field. Our students have access to instructors who specialize in evidence-based practices, preparing them to graduate ready to be a change agent in their communities.
Through the program, students receive instruction through a cohort model which prepares them to implement a comprehensive school counseling program (CSCP) aligned with ASCA National Model. Students are prepared to take the state licensure exam to be licensed as a Professional School Counselor. While in the training program, students have opportunities to work closely with faculty to create presentations, manuscripts, and projects centered around the school counselor's role in student advocacy as well as professional identity.
Graduates from the M.Ed. in School Counseling are able to incorporate an ecological approach to counseling, which is the core of our counselor education programs. Students are trained to effectively utilize the ASCA National Model to develop and implement a comprehensive school counseling program (CSCP). With these tools, school counselor trainees learn how to close achievement gaps for students in the PreK-12 school system. Our students use evidenced based practice, assessments, school data, and collaborative relationships to work with all students and reduce disparities in the areas of social-emotional learning, academic, college and career planning, and transition.
The M.Ed. in School Counseling meets the training requirements established by Ohio's Department of Education (ODE). Faculty work closely with students seeking licensure from other states to help them prepare for their respective requirements.
Through our rigorous coursework, our students are prepared to utilize data within practice as a Professional School Counselor. Additionally, such high caliber training affords students the opportunities to prepare for doctoral training, should they choose to advance their career. 
What distinguishes the UC School Counseling Program is the impact we have on our local community. Our program strives to ensure students have opportunities to participate in programs that provide enhanced training during the internship experience. Through our strong school counseling partnerships and high-quality graduates, our program is recognized as a leader within the community. Additionally, our program includes specialized coursework and internship experiences to help school counselor trainees gain the knowledge and skills to aid elementary, middle, and high school students, face grade-level transitions, explore and prepare for future careers as well as college, and thrive in their lives overall. 
Contact our Program Track Coordinator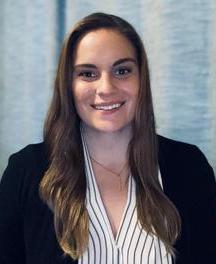 Rachel Mae Saunders
Dr. Rachel Saunders (she/her/hers) is an Assistant Professor of Counseling, responsible for serving as the track coordinator for the School Counseling Program. Licensed as a school counselor in the state of Ohio and North Carolina, she is also a Nationally Certified Counselor.

She received her Ph.D. in Counselor Education and Supervision from the University of North Carolina at Charlotte (UNCC), her M.A. in School Counseling from UNCC as well, and her B.S in Psychology from SUNY Brockport in Upstate, NY. Dr. Saunders is a former middle and high school counselor, with additional experience working with adolescents in the North Carolina juvenile detention setting.

Her clinical and research interests have focused on the role of school counselors promoting a culturally inclusive school environment and acting as agents of change within the systems of education through advocacy and leadership. This includes research on training school counselors in multicultural competence and the implementation of culturally responsive school counseling programming through a lens of social justice and trauma-informed care. She also engages in scholarship related to student equity in higher education. From K-12 schools to institutions of higher education, she is interested in researching ways to create an affirming and inclusive setting for all.