CECH Embedded Mental Health Counselor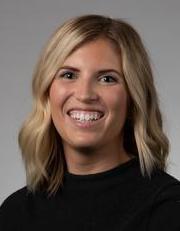 Madeleine Louise Muller
Clinical Counselor, SA Counseling & Psychological Services
360 Teachers College
Schedule a Counseling Appointment with the CECH Embedded Counselor
Are you interested in meeting with the CECH embedded mental health counselor? Make an appointment by following the steps below:
Call UC CAPS at 513-556-0648.

Indicate that you are a CECH student and you'd like to schedule with Madeleine Muller.

UC CAPS will schedule your initial 40-minute video conference or phone appointment.

UC CAPS will provide an email with instructions for completing pre-appointment paperwork, and how to connect to your appointment.

Make sure you complete the pre-appointment paperwork prior to your counseling meeting
Explore Self-Help Resources
Self-Help resources further extend our within the community and make support more accessible for all of the UC community.
Connecting with peers provides an innovative way to supporting the community by promoting opportunities for student engagement, connection, and reducing barriers to mental health resources. Some of our peer engagement includes peer to peer initiatives including Bearcats Support Network (BSN) and Sky@UC.
Frequently Asked Questions
CAPS does charge a fee for some services. However, no student will be denied services due to financial barriers. The initial consultation and first three individual sessions are at no cost to UC students. There will be a $35 fee for most individual therapy sessions after the third individual appointment in a fiscal year. There is no charge for group therapy. If you have questions or concerns about fees, please speak to your initial consultation therapist or ongoing treatment provider about a fee waiver.
Note: CAPS waives the fees for the following students:
1. Students with Medicare, Medicaid or a Student Health insurance plan
2. Students who are Veterans
3. Students who are Pell or Cincinnati Pride Grant Recipients
4. Students who have experienced identity based violence, stress, or trauma.
Our initial consultation appointment is our first point of contact and is free. At this session, we will discuss the nature of your concerns and work together on next steps. CAPS provides solution-focused counseling services and many of your concerns can be addressed within this brief model.  You may be connected with other CAPS services or referred to a community partner or external therapist. 
CAPS uses single session and brief therapy models. Many students who attend only one session report that the single session was all that was needed, given their current circumstance. For students working on short-term mental health goals, CAPS clinicians meet with students for bi-weekly, individual therapy sessions during the semester.
Most of the time, students feel connected with their therapist. There are times, however, when it may just not feel like a good fit. Although it might feel hard, we believe it is best to speak directly with your therapist and let them know you would like to change therapists. We do not get offended when students want to change therapists, though we do find it is helpful to talk about the reasons you want to change to figure out how to best suit your needs.
There is a range of concerns for which people seek therapy. Examples include relationship issues (with parents, roommates, friends, romantic partners, and more), making a difficult decision, facing stressful problems, or dealing with milestone life events, such as graduation, starting a new internship, or a loved one's death.
Group Based Services provide group-based counseling treatment services to UC students that address a variety of topics ranging from anxiety, depression, mindfulness to social justice. Group therapy is often a treatment of choice for many students' concerns. By engaging in group therapy, students can expect improved overall well-being and connection with others.
Groups are free and confidential for all UC enrolled students. Talk to a clinician and ask about our group counseling program to get connected and learn more. A pre-group appointment with the facilitator(s) is needed before attending a group. 
We offer a variety of groups each semester including support, theme focused, or general process therapy groups. Groups may be in-person or virtual.
Neither the fact that you have seen a counselor nor anything you say in counseling will ever appear on your academic record. Your current professors and the institutions you attend in the future will never know you are or were in counseling. A student's counseling and academic records are completely separate. The exception is when a student poses foreseeable harm to self or as required by HIPAA law. A student can, however, choose to sign a release of information form in order to allow the counselor to disclose confidential information to a third party, if so desired.
If you are a UC student accessing services in Ohio, call CAPS at 513-556-0648 to schedule a Rapid Access Consultation (RAC). We have sessions available Monday – Friday between 9:00 am and 4:00 pm. After you schedule, you will receive an email from CAPS with instructions for how to complete your paperwork and connect to your appointment.
Check out Let's Talk, a 15-20-minute confidential conversation over the phone, Microsoft Teams, or in-person where students can learn strategies, ask questions, and get support from our CECH embedded mental health counselor!
Yes, by scheduling a Rapid Access Consultation, students can talk with a therapist and work together to identify a good "fit". A great resource to finding community providers is Psychology Today, where you can search for therapists by zip code, insurance, specialties, etc. (https://www.psychologytoday.com/us/therapists)
Faculty Resources and FAQ
Making a referral for counseling is a skill that requires tact, sensitivity, and at times, firmness. The purpose of the referral should be made clear to the student. If possible, explain how the counseling office might assist the student with their problems.
Introduce the topic of referral to the student by summarizing to him or her what you understand to be the problem. Emphasize the emotional responses that you have heard. State specifically why you are concerned and describe the behaviors, then suggest a visit to the Counseling Office.
A student's initial contact with the Counseling Office may be made by phone, or 

by visiting the office. Give the student information about the Counseling Office and urge them to call.

If you want to offer support, you can have the student call the Counseling Office from your office and/or you can offer to accompany the student to their first session.

If you call the Counseling Office on behalf of the student, identify yourself and 

explain to the support staff that you are assisting a student in making an appointment, then allow the student to speak with the support staff to arrange an appointment.

Emergencies are always accommodated as soon as possible, and same day appointments may be possible. For non-emergency situations, appointments are highly recommended.

If you decide it is important to share information about the student with the Counseling Office, it is better to receive permission from the student beforehand. Contact a counselor in the Counseling Office later to share pertinent information about the person you referred.

To alert multiple offices on campus about a student concern the

Crisis, 

Assessment, Referral, Evaluation Team (CARE Team) is a great source for developing support and connection to useful resources for the student on campus.
The Greater Cincinnati Area Crisis Information Line Referral Sources can be used after-hours in case of an emergency:
Emergency Help (24-hour police assistance): call 911

United Way Help Line: 513-721-7900

Suicide/Depression Hotline: 513-281-CARE

Psychiatric Emergency Services: 513-584-8577

National Suicide Hotline: 800-273-8255

CAPS (Main campus): 513-556-0648

Emergency Help (24-hour police assistance): call 911

Butler County Crisis Hotline: 513-523-4146

Clermont County Crisis Hotline: 513-528-SAVE

Warren County Crisis Hotline: 877-695-NEED

LGBTQ+ youth suicide prevention hotline: 866-488-7386

Crisis Text Line: Text START to 741-741
Student confidentiality prohibits the counseling staff from providing faculty or staff with information about a student you have referred, as once a referral is made, communication between the student and the Counseling Office is often confidential. It is almost always appropriate, however, for you to check back with the student to determine whether he or she has followed through on your recommendation. This communicates your interest and concern.
Some students form an attachment with faculty and staff and look to them for support. Before deciding to support a student on your own, briefly assess the situation, its seriousness, and potential for referral. If you choose to support students yourself UC CAPS can provide you with consultation and support.