Instructional Design and Technology (IDT): Ph.D. Program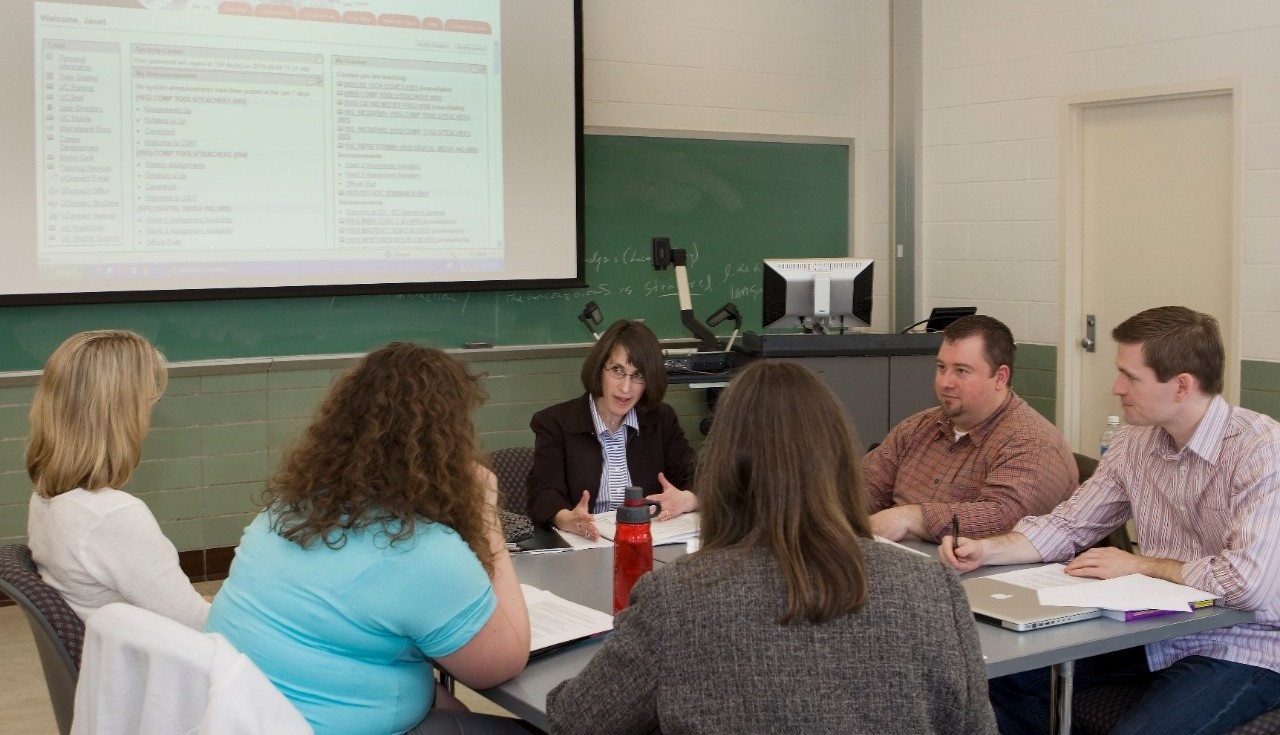 The University of Cincinnati graduate program in Instructional Design and Technology (IDT) offers a Doctoral Program in Educational Studies with a concentration in IDT. The objective of this concentration is to prepare researchers and practitioners for leadership roles in the design, evaluation, and use of media and technology for education. Put simply, IDT professionals are experts in using media and technology to help people learn.
IDT students learn how to design and research instructional technology for a variety of content areas, learners, and settings. For example, graduates of the IDT concentration could apply the knowledge and skills gained in the Ph.D. program in settings such as higher education institutions, corporate training centers, health institutions, museums, non-profit research organizations, and educational media production companies. Within these work environments, graduates may work as administrators, directors, faculty members, researchers, designers, or evaluators.
The central focus of this concentration is the study of underlying learning theories and their implications for the design and application of educational media and new technologies. Students study what is known about how people learn in order to more effectively design and assess technology-rich learning environments. Students in the program learn from experts in the field and also have the option to complete  an internship  wherein they conduct research or assessment within a real-world setting. Students are prepared to conduct research and development with a variety of new media and technology to support learning such as social media, gaming and simulations, interactive videos, and other computer tools.
This area of concentration provides opportunities for graduate students to specialize in the study of research methodologies, theories, and issues surrounding the use of instructional technology. This is accomplished through the delivery of relevant coursework and carefully guided dissertation study. A distinguishing feature of the program includes research apprenticeships with faculty who have Graduate Faculty Status in the School of Education. Through faculty mentoring, students author and/or co-author publications and presentations at national and international conferences.
A Master's degree is required in IDT or closely related areas from an accredited college or university. Students with Master's degrees in unrelated areas, but with clear evidence of experiences and/or credentials appropriate to the degree and the IDT area of concentration may be accepted. To fulfill the requirements of the IDT Ph.D. degree, students complete a minimum of 90 semester credit hours of graduate study. Students may transfer up to 30 graduate credit hours for comparable courses with a B grade or above if those courses were completed within 5 years prior to admission, excluding core coursework. Transfer credits must adhere to Graduate School policy and are subject to approval by the student's Doctoral Advisory Committee. For more details, visit the Educational Studies Ph.D. website.

Scholarships in the form of Graduate Incentive Scholarship Awards (GIA) are available to incoming and returning students based on merit. If awarded, students can use GIA funding to cover part of their tuition. Application forms for GIA support scholarships will be sent to students after they have been officially accepted into a program. GIA funding is an annual award. A new application must be submitted each year.

A Graduate Assistantship (GA) is a work appointment for a full-time graduate student that includes a living stipend and full tuition remission (fees are not covered). Most GA appointments are for a period of one academic year (nine months) beginning Fall Semester and terminating with the fulfillment of normal academic responsibilities for the Spring Semester. Application forms for GIA support scholarships will be sent to students after they have been officially accepted into a program.  Students must reapply for GA positions annually.  
For more information regarding GIA and GA, please contact Jillian Altus.
Design and complete a dissertation study that demonstrates a command of relevant theory; comprehensive knowledge of relevant literature; and mastery and utilization of appropriate research methods.
Identify and articulate major lines of theory and research related to the student's chosen area of concentration.
Identify, articulate, and execute a focused research agenda.
Write and present research findings through publications and presentations.