Our Faculty & Staff
< Back to list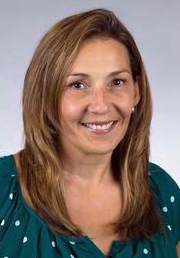 Liliana Rojas Guyler
Title: Associate Professor
Health Promotion And Education
Office: 460B Teachers College
Tel: 513-556-0993
Email: guylerlr@ucmail.uc.edu
Liliana Rojas-Guyler, PhD, FESG, CHES© is an Associate Professor of Health Promotion & Education. Dr. Liliana Rojas-Guyler earned her doctorate degree from Indiana University in Bloomington where she majored in Health Behavior and minored in Human Sexuality Education and in Instructional Systems Technology (2002). She earned two degrees from the University of Florida in Gainesville, a Bachelor's degree in Health Education majoring in Community Health in 1995 and a Master's degree in Health Education with emphasis in Public Health in 1996. She is certified by the National Commission for Health Education Credentialing as a Certified Health Education Specialist and an Eta Sigma Gamma National Fellow.
Dr. Rojas-Guyler has published and presented widely on minority health issues, particularly those relating to Latina health. Her research agenda includes determinants of health among vulnerable populations (e.g. people who have disabilities and immigrants), health behaviors, the influence of culture, and professional preparation needs of future health educators to address cultural appropriateness in health program planning. Her most recent research includes: a) assessing the health status changes over the last decade of Latinos in the Greater Cincinnati Area, b) assessing Disability Awareness and Self-Efficacy of Health Education students, and c) assessing the connection of Social Media Use, Body Image, Cultural Identity, and Exercise Patterns among African American and Latinos among other projects. Dr. Rojas-Guyler has published in Health Behavior, Health Promotion Practice, The Health Educator, the American Journal of Health Education, the Journal of Health Care for the Poor and Underserved, Family and Community Health, and the Journal of Religion and Health among others. Dr. Rojas-Guyler is dedicated to inclusion of students in collaborative research teams. She is experienced in qualitative and quantitative evaluation and research, and is knowledgeable and proficient conducting program evaluation and continuous improvement.
Dr. Rojas-Guyler is an active professional in her field. She serves as a reviewer for several professional journals and is a member of the editorial board for The Health Educator. She has worked at the national level with Eta Sigma Gamma, the national honorary for her profession, the Society for Public Health Education, and has held membership with several other organizations including the APHA, SOPHE & ESG among others. She has served the community and is currently a member of Interact for Health's Community Involvement Committee and a research consultant for the Latino Community Health Status Survey (IH).
View Curriculum Vitae (pdf)