Faculty and Staff
CECH is home to nationally recognized faculty who have knowledge and expertise in various academic disciplines. With a student to faculty ratio of 18 to 1, our faculty provide students with the highest level of support - academically and professionally.

Faculty and Staff Directory

< Back to list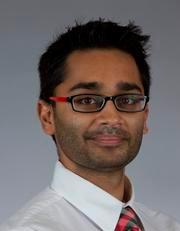 Neil Deochand
Title: Asst Professor - Educator
Office: 450H Teachers College
Tel: 513-556-8528
Email: neil.deochand@uc.edu
Neil Deochand, Ph.D., BCBA-D is an Assistant Professor-Educator in the Behavior Analysis Distance Learning Program at the University of Cincinnati. Since 2011 he has worked as a Board Certified Behavior Analyst in both center based, and out-patient settings. He received his Ph.D. in Psychology with a focus in behavior analysis from Western Michigan University in 2017, and he has published research on a variety of topics including quality assurance of behavioral graphing practices, behavioral medicine, and he is interested in disseminating decision making tools to support the professional practice of applied behavior analysis.
View Curriculum Vitae (pdf)