Faculty and Staff
CECH is home to nationally recognized faculty who have knowledge and expertise in various academic disciplines. With a student to faculty ratio of 18 to 1, our faculty provide students with the highest level of support - academically and professionally.

Faculty and Staff Directory

< Back to list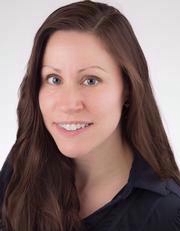 Jacinda K Dariotis
Title: Director, Evaluation Services Center & Director of Research, CECH & Professor, School of Education
Office: 638L Teachers College
Tel: 513-556-9056
Email: dariotja@ucmail.uc.edu
Web: www.uc.edu/evaluationservices
Dr. Dariotis has nearly 20 years of research and evaluation experience in human development and public health, with a particular focus on adolescent risk-taking behaviors and decision-making.  Dr. Dariotis has advanced degrees in Human Development and Family Studies and Statistics.  After serving as faculty for nearly a decade at the Johns Hopkins School of Public Health, Dr. Dariotis now directs the University of Cincinnati Evaluation Services Center.  She brings expertise in evaluation, prevention, and implementation science as well as quantitative, qualitative, biosocial, and survey research methods.  Her background includes public health, community based participatory research, school-based programs, and child and adolescent cognitive, behavioral, social, and emotional development.  Dr. Dariotis has worked and conducted research extensively with disadvantaged urban youth and young adults in distressed environments, people living with HIV/AIDS (PLHA), incarcerated women and men, youth and adults in substance abuse treatment programs, and other at-risk populations.  Her work focuses on risk-taking decisions and behaviors (e.g., sexual, substance use, violence) and how prevention and intervention programs may promote positive well-being among at-risk youth and adults.  Her basic and applied research has resulted in over 40 peer-reviewed publications, 92 presentations, and 60 technical reports.  She has taught both content (lifespan development, human development, family studies, child health and adolescent development seminar) and methods (empirical inquiry, survey research methods, biosocial methods, evaluation methods) courses at undergraduate and graduate levels.  Dr. Dariotis is committed to quality research and evaluation to promote the health and well-being of individuals, families, and society as well as empowering program providers with meaningful and high quality data and tools to make informed decisions about current and future programming.
View Curriculum Vitae (pdf)