Faculty and Staff
CECH is home to nationally recognized faculty who have knowledge and expertise in various academic disciplines. With a student to faculty ratio of 18 to 1, our faculty provide students with the highest level of support - academically and professionally.

Faculty and Staff Directory

< Back to list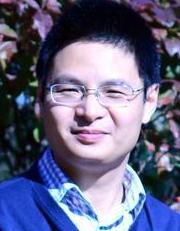 Haiyang Ai
Title: Asst Professor
Office: 615P Teachers College
Tel: 513-556-5116
Email: aihg@ucmail.uc.edu
Web: http://aihaiyang.com
Haiyang Ai received his PhD in Applied Linguistics from The Pennsylvania State University in 2015. He is currently Assistant Professor in the Literacy and Second Language Studies program in the School of Education at the University of Cincinnati. His research focuses on corpus linguistics, intelligent computer-assisted language learning, and second language acquisition. His scholarly work has occurred in Journal of Second Language Writing, ReCALL, World Englishes, and International Journal of Asian Language Processing.
View Curriculum Vitae (pdf)