Our Faculty and Staff
< Back to list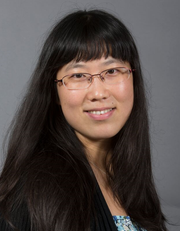 Fengyang Ma
Title: Asst Professor - Adj Rep
Office: 610N Teachers College
Tel: 513-556-3406
Email: mafg@ucmail.uc.edu
Dr. Fengyang Ma is currently an assistant professor (Adjunct Representative) in the Center for English as a Second Language in the School of Education at University of Cincinnati. She was awarded her Ph.D. degree in Foreign Languages and Literatures from Tsinghua University. She then received her post-doctoral training at the Center for Langauge Science at Pennsylvania State University. Her research interests center on the Psycholinguistic investigation of bilingualism. She is interested in examining different aspects of bilingual lexical processing with both behavioral and Neuroscience techniques, particularly event-related potentials (ERPs).
Education
Doctor of Philosophy, Tsinghua University, Beijing, China, 2013 (Psycholinguistics).
Master's Degree, University of Chinese Academy of Sciences, Beijing, China, 2006 (Linguistics and Applied Linguistics).
Publications
Peer-reviewed Publications
Ma, F., Li, Sh., & Guo, T. (2016). Reactive and proactive control in bilingual word production: An investigation of influential factors. Journal of Memory and Language, 86,, 35-59.
Zhang, H., Kang, Ch., Wu, Y., Ma, F., & Guo, T. (2015). Improving proactive control with training on language switching in bilinguals. NeuroReport, 26 (6), 354-359.
Guo, T., Ma, F., & Liu, F. (2013). An ERP study of inhibition of non-target languages in trilingual word production. Brain and Language, 127 (1), 12-20.
Ma, F., Chen, P., Guo, T., & Kroll, J. F. (2017). When late second language learners access the meaning of L2 words. Journal of Neurolinguistics, 41,, 50-69..
Kang, Ch., Ma, F., & Guo, T. (2017). The plasticity of lexical selection mechanism in word production: Event-related potential evidence from short-term language switching training in unbalanced Chinese-English bilinguals., 19,, 1-18.
Cui, G., & Ma, F. (2012). A critical review about the tree pruning hypothesis of Agrammatism. Journal of Foreign Languages, 35 (6), 72-80.
Zhang, H., Ma, F., Chen, B., & Guo, T. (2012). Automatic activation of Chinese during English word reading in non-proficient Chinese-English bilinguals. Foreign Language Teaching and Research, 44 (5), 719-727.
Cui, G., & Ma, F. (2012). The status quo and principles of University English teaching. China University Teaching, 2, 33-38.
Cui, G., & Ma, F. (2012). A critical review of sonority related phonological theories in aphasics. Journal of Xi'an International Studies University, 20 (1), 34-37.
Kang, Ch., Fu, Y., Wu, J., Ma, F., Lu, Ch., & Guo, T. (2017). Short-term language switching training tunes the neural correlates of cognitive control in bilingual language production.. Human brain mapping.
Book Chapters
Kroll, J. F., & Ma, F. (In Press). The bilingual lexicon. Handbook of Psycholinguistics. Wiley-Blackwell publications.
Experience & Service
Work Experience
08-15-2015 to 08-14-2017, Visiting Assistant Professor, University of Cincinnati.
01-01-2015 to 08-14-2015, Post-doctoral Research Assistant, Pennsylvania State University.
07-15-2012 to 12-31-2014, Post-doctoral Visiting Scholar, Pennsylvania State University.
08-15-2017Assistant Professor , University of Cincinnati, Cincinnati, Ohio.
Post Graduate training and Education
07-15-2012 to 12-31-2014, Accessing meaning of L2 words in beginning and advanced learners: An electrophysiological and behavioral investigation., Pennsylvania State University, State College, PA, USA.
Additional Information
Website: mafengyang.com