Our Faculty and Staff
< Back to list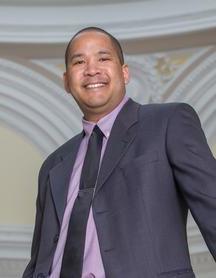 Marcus Johnson
Title: Associate Professor & Co-Director, Developmental & Learning Sciences Research Laboratory
Office: 2150Q EDWARDS 1 Edwards Center
Tel: 513-556-0555
Email: johns3m2@ucmail.uc.edu
Dr. Marcus Johnson is the Co-Director of the Developmental and Learning Sciences (DLS) Research Laboratory and Associate Professor of Educational Studies at the University of Cincinnati (UC). He is also the Coordinator of the DLS PhD concentration and Educational Studies' Master's program, representing the DLS and Early Childhood Education & Human Development faculty on the School of Education's PhD Council. Beyond his service to the School of Education, Dr. Johnson also serves as Co-Chair of Programming for the University's Faculty Enrichment Center; and on the University's Faculty Senate committees for Research & Scholarship and Human Relations.

Dr. Johnson's area of research is "motivation in education." And his investigations have included the assessment of traditional and nontraditional college students' motivations, the use of motivational strategies that enhance cognitive engagement and learning, the effect of policies and practices on both student and faculty motivation, and identifying motivating factors that contribute to students' school-life balance, development, and achievement. Dr. Johnson is the lead researcher and  Co-PI on a $1.2M National Science Foundation (NSF) grant assessing underrepresented high school students' motivations for STEM related college majors and careers. He has also served as an NSF review panelist.

Dr. Johnson has held leadership roles in the American Psychology Association's Division [15] for Educational Psychology, and the American Educational Research Association's Division [C] for Learning and Instruction and "Motivation in Education" group; most recently as Secretary-Treasurer of "Motivation in Education," and as editor of APA's Newsletter for Educational Psychologists. Through his scholarly organization service, Dr. Johnson aims to advocate for the integration of research and practice in the disciplines of Developmental and Educational Psychology. He also serves on the advisory board for the Handbook of Educational Psychology (4th edition), as well as the editorial board for Contemporary Educational Psychology.

Dr. Johnson earned his PhD in Educational Psychology at the University of Nevada, Las Vegas, and for over a decade he has enjoyed teaching diverse courses in higher education, from Human Development to Human Learning, and from Educational Assessment to Research Methods. Outside of academia, Dr. Johnson is a proud father and husband, foodie, and Olympic sports fanatic.
Education
Ph.D., University of Nevada, Las Vegas (Educational Psychology).
M.S. , University of Nevada, Las Vegas (Educational Psychology).
California Teaching Credential, University of California, Irvine (Secondary Education - Biology).
B.S., University of California, Davis (Human Development).
Research Information
Research Support
(Co-PI), Design-Basaed Information Technologies Learning Experiences (DITLE), National Science Foundation. (1433769), $1,200,000. 2014 to 2018. Status: Completed.