Our Faculty and Staff
< Back to list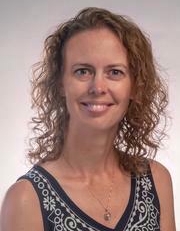 Sarah M Stitzlein
Title: Professor
Office: 610F Teachers College
Tel: 513-556-2439
Email: sarah.stitzlein@uc.edu
View full website, including publications and information about current writing projects, at http://sarahstitzlein.wix.com/portfolio 

Sarah M. Stitzlein (Philosophy of Education, Ph.D., University of Illinois, 2005) is Professor of Education and Affiliate Faculty in Philosophy. As a philosopher of education, she explores and clarifies key concepts within and purposes of education from the perspective of social and political philosophy.  She is especially interested in issues of political agency, educating for democracy, and equality in schools.  She pays special attention to how these issues play out in the intended and unintended curriculum.

Her most recent book, Teaching Dissent: Citizenship Education and Political Activism, investigates the role of political dissent in civics education.  Additionally, she works to uncover problems in education and envision better alternatives. Her AESA Critics Choice award-winning 2008 book, Breaking Bad Habits: Transforming Race and Gender in Schools, draws upon American pragmatism and feminist poststructuralism to offer teachers pathways out of persistent hierarchies of race and gender in schools. This social justice commitment carries throughout her work which has appeared in many journals, including: Educational Theory, Teachers College Record, Review of Educational Research, Philosophical Studies in Education, Journal of Gay and Lesbian Issues in Education, and Educational Studies.
View Curriculum Vitae (pdf)