Our Faculty and Staff
< Back to list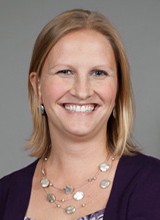 Sarah Manchak
Title: Associate Professor
Office: 660MA Teachers College
Tel: 513-556-1782
Email: sarah.manchak@uc.edu
Sarah M. Manchak is an Associate Professor in the School of Criminal Justice at the University of Cincinnati. She received her Ph.D. in experimental psychopathology with a concentration in psychology and the law from the University of California, Irvine in 2011. Prior to that, she earned her MA in forensic psychology at John Jay College of Criminal Justice. Dr. Manchak's research seeks to inform policy and interventions for offenders and individuals with serious mental illness and/or addiction.
 
Dr. Manchak teaches at the undergraduate and graduate levels, is the coordinator of the undergraduate research program, runs the faculty-led study abroad program in Scotland, and is the academic advisor for the  undergraduate/university chapters of the Ohio Innocence Project, College Mentors for Kids, and the American Correctional Association.
 
To learn more, visit Dr. Manchak's website at www.cjimpactresearch.com.
View Curriculum Vitae (pdf)